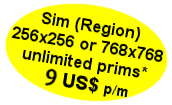 Order Land

Account creation is switched off for now and Swondo World can only visited by Staff members. While the World is under construction, only regions that are worked on are online.




Note that Swondo World has no connection to the lease of Estates, Sims, Regions and parcels which are offered in OSgrid.
Swondo World is a completely seperate project by Swondo.