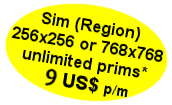 Order Land



Swondo specializes in reliable region hosting since 2006. Sim hosting companies usually have a rather short lifespan. Swondo offers regions in OpenSim as of 2009 and is the oldest active independent region hosting company. Solid fast connections, high uptime rates, fast and friendly service, deep respect for privacy and creativity, dedicated back-ups and well designed initial landscapes are reasons why Swondo is able to be around in good standing for over 10 years now.
Swondo offers high quality virtual real estate in Metropolis and OSgrid.






'Swondo World' is another project by Swondo. In this independant grid/world you can find or create a home, club, shop, flying garden, etc.. The possibilities are only limited by your imagination. You can change your looks, collect or create cloths, drive a car, ride a horse or fly a plane. There are multiple places (hangouts) where you can meet other people.

In Swondo World it is perfectly possible to have a great virtual life without spending any real money. No costs, just great fun.

'Swondo World' is on hold until we find an experienced ROBUST Grid manager.



Swondo Photo Album



Swondo offers high quality virtual land in Metropolis and OSgrid. Prices start at 0 US$ p/m and sims come with architechtually designed landscapes and 2 weeks free tryout.
Order Your Land

More info >>>





Swondo creates: Regions, landscapes, communities, buildings, objects, scripts and integrated websites for businesses, schools, foundations, Swondo World and 3'party grids.




Swondo offers payments according knowledge level for a 'grids and server' manager. Expert knowledge of ROBUST including all kinds of add-ons and integrated webpages is required. Preferable living in The Netherlands or Germany. More jobs here.