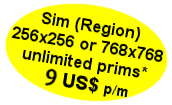 Order Land


Metropolis, OSgrid and Swondo World are OpenSim based worlds. Swondo has several servers running for these 'grids'. Some host public regions and some are to show chosable Swondo landscapes. Most servers however are dedicated to leasing out high quality regions(Sims) in Metropolis or OSgrid.




Swondo Estate is meant for growing numbers of people who come to Metropolis or OSgrid to have an environment in which they can live and create without the technical challenges of setting up and maintaining a simulator.

With high quality land, great estate services and low costs, Swondo strives to be the best choice for this new generation of inhabitants.

Swondo offers parcels, standard sized and extra large regions with 500 to 90.000 prims. In this way we think we can offer the best for any budget. All regions come with high quality nature landscape and vegetation of choice. Landscapes can be changed without limits. Delivery without initial landscape is also possible.

As an extra, "water-regions" with no prims and avatar load of their own can be added at very special low prices.

Go here to setup your land in Metropolis or OSgrid

Please note that OSgrid is officially a testgrid only




| | |
| --- | --- |
| | Standard 256x256 regions, 512x512 or 768x768 VAR-regions are offered at the same price. Price depends on prim allowance. |
| | Regions come with initial (fully changable) landscape and a name of choice |
| | It is possible to ask for OAR files during and/or at the end of your lease. |
| | IAR files can be made on request and sent to you. |
| | Swondo management has over 12 years experience with servicing and managing large high quality estates in Second Life and openSim. |
| | Happy customers are the best advertisement. Swondo always tries to offer more than expected customer service. |
| | Every 24 hours a 'return point' is created to enable Rollback possibilities and to prevent major losses on Hardware failure. These OAR files are stored on two separate harddiscs on two physically different locations. |
| | ViVox voice is standard available on all Sims at no additional charge. Region-owners can regulate voice per region or parcel at wish. |
&nbsp



VAR-regions are large regions which look like a combination of multiple standard regions. They really are one and you won't feel any bordercrossing within. Your X,Y coordinates-meter will go up to 768 meter. A VAR-region has the same server-burden as a standard region and that is why the price can be the same.

Much more land for the same price but please keep in mind:

| | |
| --- | --- |
| | Not every viewer can handle(visit) VAR-Regions. |
| | VAR-Regions demand a little more power from the viewer its computer. |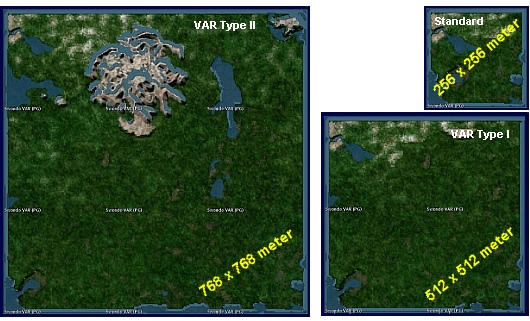 VAR-Region(Sim) type I or II with 10.000 prims: 15 US$(14 Euro) per month
VAR-Region(Sim) type I or II with 17.200 prims: 20 US$(18 Euro) per month
VAR-Region(Sim) type I or II with 30.000 prims: 28 US$(26 Euro) per month
VAR-Region(Sim) type I or II with 90.000 prims: 60 US$(55 Euro) per month

Go here to setup your land in Metropolis or OSgrid

In theory VAR-regions can even be bigger. Swondo has tested the next possible size 1024x1024 and 1280x1280 but noticed that viewers began to hiccup and slow-down. This is most likely due to larger numbers the visitors computer (viewer) has to calculate. Because not everyone has a power-computer and Swondo wants to avoid being blamed for causing lag, Swondo will offer size 1024 and beyond only at special request.





Swondo Village is located at the OSgrid LBSA-Boardwalk. It is still under construction. A cinema, restaurant, harbour, about 40 apartments and 30 shops are being build. The apartments are meant for people who like to live in the village. The goal is to become a good freebie shopping center and gathering place for the grid its population. Shops and apartments will be offered for free.





Winter on parts of Swondo Estate.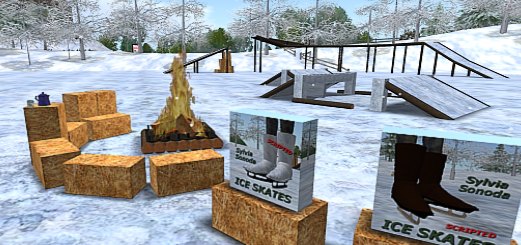 Every December and January parts of the estate experience a short winter. Several fun places are created. In region Hain there are jumping ramps build on the frozen lake. Hot chocolate and free ice skates are available.


Swondo photo Album





February 8, 2019: Swondo has stopped hosting land in Metropolis because the future of this world is uncertain and we disagree the policy change in which avatars have to pay (identify) to sign-up. We will focus on OSgrid and expand Freeland there soon.





At the Available Land page there is a list of initial landscapes and climates. Simply chose the landscape and climate your like best and fill in a name for your region. The region will be setup and handed over within 10 hours.

The first two weeks of your first region are to find out if you really like it. No costs, No obligations, just fun.

If you have special wishes, requests or plans, let us know. We like to offer what you look for.



Do you realize that it is cheaper to lease with Swondo then to host a region from home pure based on electricity costs?






Standard and VAR sizes cost the same
Standard region 256 x 256 meters
VAR region 512 x 512 meters
VAR region 768 x 768 meters


The prim quota determines the price:
Region with 10.000 prims
15 US$ (14 Euro) per month.

Region with 17.200 prims
20 US$ (18 Euro) per month.

Region with 30.000 prims
28 US$ (26 Euro) per month.

Region with 90.000 prims
60 US$ (55 Euro) per month.

-
No startup, setup or buy fee.

Multiple regions lower the price
Contact Swondo for a price.

Water region *adding
9 US$ (8 Euro) per month.
* Shares prims from standard region
Cannot be combined with VAR.


Payments using PayPal or money transfer

The (Minimum) lease time is one month.
Payments are done per month upfront.

Go here to setup your land.

The first two weeks of your first land are free of charge and obligations. This gives time to setup a payment method and notice the quality of Swondo servers and service.






Swondo offers a limited amount of beautiful residential parcels at no charge. Some include a house, cottage or mansion. Free parcels come with 500 prims but can be upgraded to 1900 prims for 5US$ per month. More Info >>>






The covenant is a mutual agreement to keep the use of the servers within the intentions of Swondo. Read the covenant >>>






Swondo offers "Land for work" for category 2 builders with texture creating skills. Persons who can use light, dark and shadows in the construction or are willing to learn this.

Also" Land for work" for original creators of skin, cloths, hair or shoes. No copiers please.

Swondo offers "Land for work" for Estate managers/sales representatives who are often inworld in Metropolis, OSgrid or Swondo World and like to visit events and hangout and help people at social gathering and landing places.

Swondo does not like aggressive or intrusive sales techniques. Be around, build relations, help and advice is the Swondo strategy.
It is all about Service and Hospitality