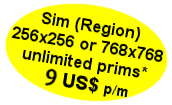 Order Land



At the moment it is not possible to order land at Swondo.

With this page you can request the setup of a region in OSgrid.

Please note that all landscapes can be changed as much as you like. Swondo offers the landscape pure as an extra service at startup.

All initial landscapes can be visited inworld in OSgrid to get an impression first. Best have your viewer running in OSgrid before you click: "Visit Inworld".

Hint: Start with the cheaper 10.000 prims region unless you are already sure you need more prims. Upgrading to more prims later, is always easy.

Standard sized and VAR-Regions are priced the same but we have not yet multiple initial landscapes for them.


Steps to your OSgrid region:

| | | |
| --- | --- | --- |
| | | Click the "choice" marker at the initial landscape or VAR that you like best. |
| | | Fill in the rest of the form at the bottom. |
| | | Hit "Send". |
Please read the covenant before you send.

1 Region, 10.000 prims: 15US$(14Euro) p/mo.
1 Region, 17.200 prims: 20US$(18Euro) p/mo.
1 Region, 30.000 prims: 28US$(26Euro) p/mo.
1 Region, 90.000 prims: 60US$(55Euro) p/mo.
1 Water region (add-on): 9US$(8Euro) p/mo.

Multiple regions in one invoice lower the price. Contact Swondo for a price