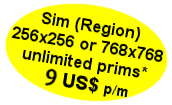 Order Land



With this page you can request the setup of a region in OSgrid.

Please note that all landscapes can be changed as much as you like.
you can also change region textures, acces and other region management rights.
Swondo offers the landscape pure as an extra service at startup.

All initial landscapes can be visited inworld in OSgrid to get an impression first. Best have your viewer running in OSgrid before you click: "Visit Inworld".

The new price of 15 US$ per month is based on fair-use. The size of the region and the number of prims is no longer restricted.
For almost everyone this new lease will give enough headroom to live and create.

The order page for Budget land, Budget Land Special and Sponsored land is coming soon.




Steps to your OSgrid region:

| | | |
| --- | --- | --- |
| | | Click the "choice" marker at the initial landscape you like best. |
| | | Fill in the rest of the form at the bottom. |
| | | Hit "Send". |
Please read the covenant before you send.

No startup, setup or buy fee.

Lower the price even further
- Payments upfront per 6 months Info
- Bringing in other leases. Info


Payments upfront using PayPal or Ideal(NL)
Price in US$ and Euro is the same